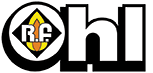 A Division of R.F. Ohl
R.F. Ohl has been in the heating and cooling industry for well over 30 years. During this time, we have provided air conditioning and heating services to both residential and commercial properties throughout Northeastern Pennsylvania. You can count on us to repair, maintain, or install your heater or AC system.
The HVAC services that R.F. Ohl offers ensure that your home stays nice and comfortable, even when temperatures are extreme out. Whether you need an air conditioning repair or a new heater installation, we are your one stop for all of your heating and cooling needs. Our services are fast, friendly, and affordable.
Air Conditioning
Don't sweat in the hot Pennsylvania summers. Instead, use our air conditioning services to stay nice and cool.
Heating
Pennsylvania's winters are cold. Stay comfortable indoors with our heating services.
Annual Maintenance
Heating and cooling costs can quickly get out of control. Make your home more energy efficient with our annual maintenance services.
Expert AC Repair & Service
The HVAC contractors at R.F. Ohl have what is takes to get your air conditioner running optimally. Your home will feel much more comfortable for a fraction of the cost. When your AC system is malfunctioning, our experts can properly diagnose the issue. They will offer you all of your solutions so that you can make an informed decision on how you want to repair it.